The market for POLY

4
Sirius has already secured a peak supply agreement aggregate volume of 13.8 Mtpa in Europe, Southeast Asia, China, Africa, North America and South America. These customers have agreed to buy a minimum amount of POLY4 once production begins and pay a given price.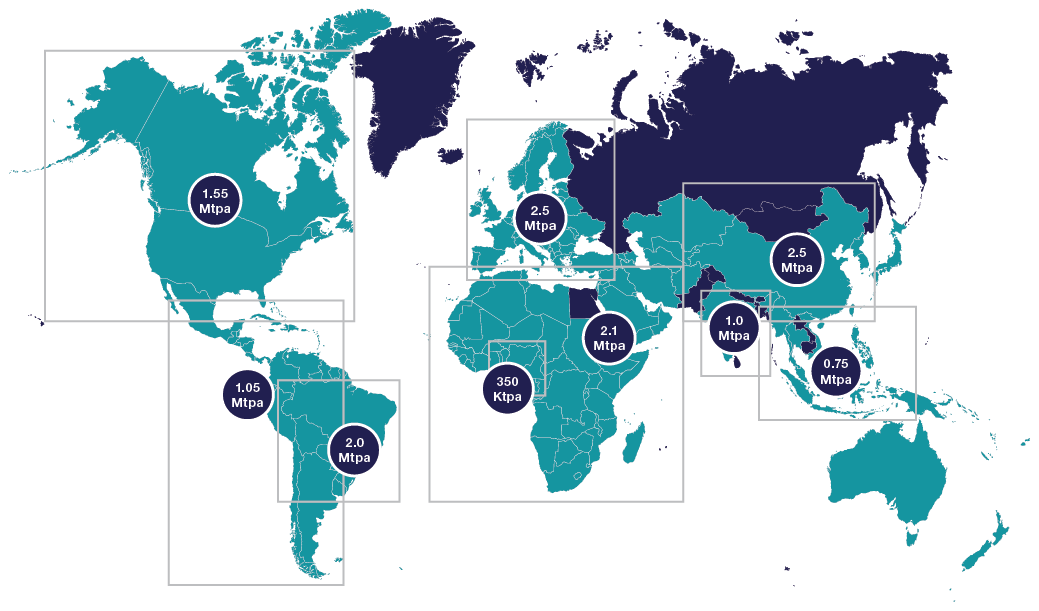 The global fertilizer market for the component nutrients in POLY4 is substantial with a value of $190 billon in 2016 and predicted to reach a value of $245 billion by 2020. At full production, this means that POLY4 would only account for up to 4.5% of the global market.
The market opportunity for POLY4 is framed in three key areas – as a substitute for existing products, to meet unmet market demand for high-value products and to provide premium performance.
Product substitution
The existing demand for POLY4's four composite nutrients is well established and there are significant direct multi-nutrient substitution market opportunities for the product with other fertilizers containing one or more of the same primary nutrients. The below graph demonstrates a multinutrient substitution market opportunity of more than 10 times Sirius' core infrastructure capacity5:

Notes: Global demand forecast of primary substitute fertilizer products in 2025 by CRU expressed in polyhalite equivalent. 2) SOP-M demand calculated on MgO equivalent basis which represents 3.4 Mtpa of low chloride K2O on a polyhalite equivalent basis. 3) Fertecon estimates that 61% of the total K2O market ends up as part of multi-nutrient fertilizer blends. 4) Expansion phase capacity. 5) Represents the theoretical POLY

4

demand by multiplying the recommended K2O rates per crop per ha by the global amount of hectares harvested for corn, soybean, wheat and sugarcane. Source: Sirius Minerals, CRU, Fertecon
Unmet market demand
The farming community increasingly acknowledges the need of balanced fertilization. There is also a significant unmet demand for chloride-free potassium: 32% of total potassium consumption is used on chloride-sensitive crops while supply of chloride-free potassium is only 9%. According to analysis by industry specialists, the increasing demand for key attributes of POLY4, such as its suitability for use on chloride sensitive crops and its ability to address sulphur and magnesium soil deficiencies, accounts for a total 130 Mtpa of POLY4 demand potential.
Premium performance
POLY4 is a premium product: it increases yield on broad-acre and high-value crops, improves crop quality and health and soil structure. Demand for multi-nutrient fertilizers continues to grow and as the performance of POLY4 becomes more widely validated, it is expected that so will its ability to attract a premium.
---
To find out more, please visit our POLY4 website.
Watch the videos from our North and South American customers, ADM and Cibra, to learn more about how POLY4 will be used in these markets: