Construction
The mine shafts will be sunk using well understood processes, with many around the world sunk to greater depths than those of Woodsmith Mine. The design of the shafts has been informed by the Company's internal expertise, external consultants and the knowledge experience of our shaft sinking partners, who have many years of experience with similar projects around the globe.
This process has led to a design and construction methodology that is appropriate for the local geological conditions. The Project's geology is very similar to that of Boulby mine, 18km north-west of the mine site, where two 1,100m deep shafts were sunk through a similar stratigraphy at the beginning of the 1970s and are still in operation today.
The Project's design addresses the hydrogeological issues involved in passing through strata that act as aquifers, and a shaft lining regime has been selected which is suitable for all the identified geological conditions and effectively mitigates potential risks.
The shafts will be sunk in the following stages:
DIAPHRAGM WALLING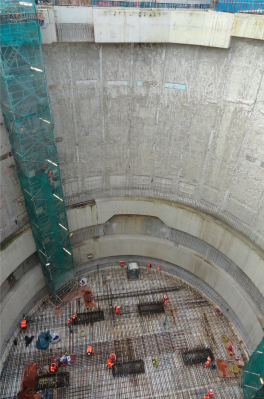 The upper sections of Woodsmith Mine's service and production shafts are built using diaphragm wall techniques to create the headgear chambers, to a depth of 60m. Diaphragm walling is also used to create the first 60m of the main production mineshaft.
Diaphragm walls are reinforced concrete retaining walls in the ground which act as a foundation and/or water barrier for deep underground structures, such as dams or subway stations.
Due to the ground conditions near the surface of the site, diaphragm walling was chosen to provide maximum strength and impermeability for the headgear chambers. It also enables the permanent winders to be installed from the outset, removing the need for the previously proposed 45m high temporary winding towers during construction.
You can read more about the diaphragm walling process here.
MAIN SHAFT SINKING
Once the foreshafts are complete, Sirius's shaft sinking contractor DMC Mining Services Ltd (DMC) will use a Herrenknecht Shaft Boring Roadheader (SBR) to construct the main shafts. The SBR has recently completed excavation of two deep shafts in Saskatchewan, Canada.
An adaptation of tunnel boring machine technology married to vertical cutting technology, the SBR delivers higher sinking rates compared to the conventional 'drill and blast' method, since excavation and shaft lining can be carried out together. The absence of explosives plus automated excavation also means greater safety levels, as no personnel are required to work in the excavation chamber.
You can read more about the main shaft sinking process here.