Woodsmith Mine
The Company has gone to great lengths to ensure that the Project is sensitive to the local landscape: mineshaft head frames will be sunk below ground to reduce their visual impact; surface buildings will be kept to a minimum; and the entire site will be landscaped and screened by existing woodland to blend in with the surrounding area. We also abide by strict environmental limits which govern our activity during the construction phase.
You can read more about our sustainable design and environmental commitments here.
---
MINE DEVELOPMENT
The mine site development comprises long-life infrastructure, which secures the Project's long-term, high-volume and low-cost production capability. Two deep shafts, the production shaft and service shaft, will access the polyhalite shelf seam.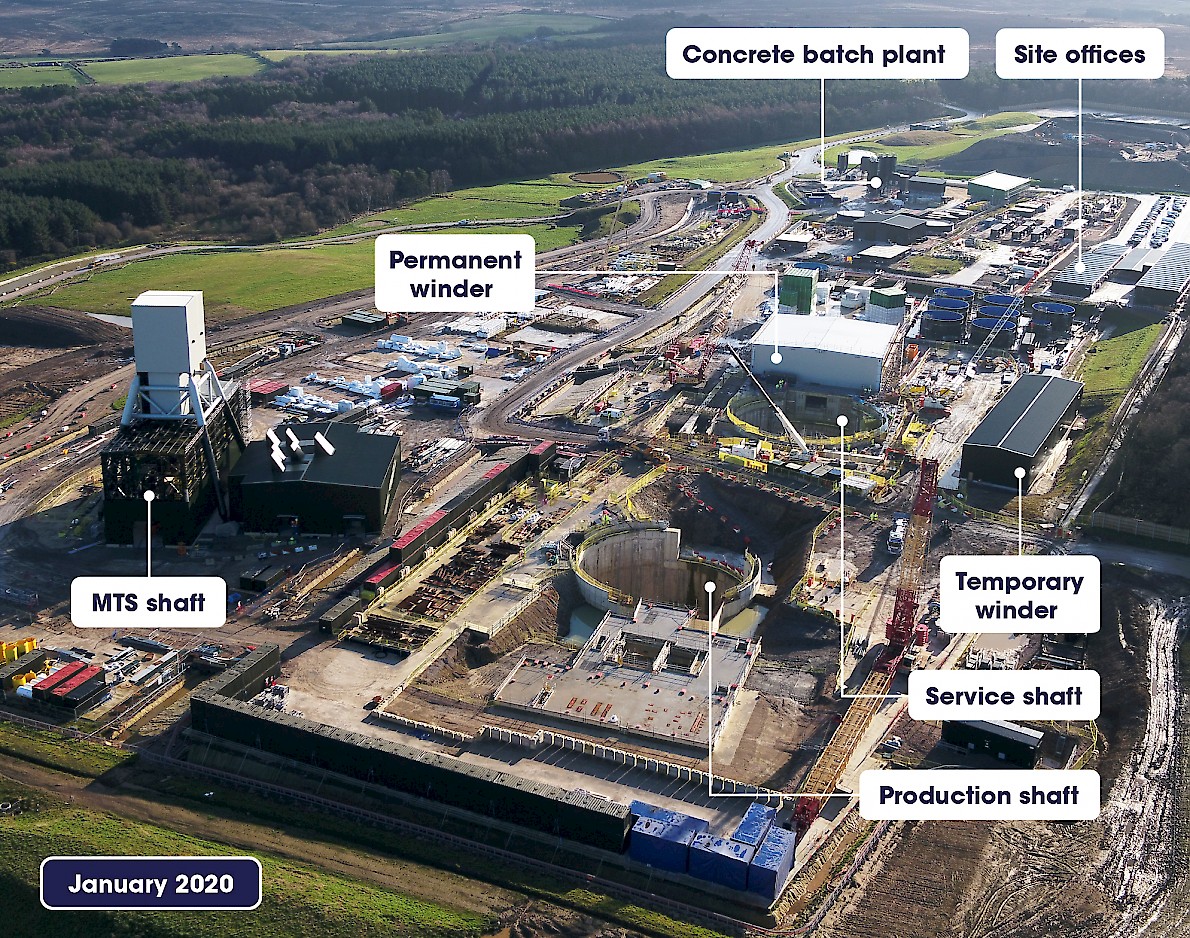 PRODUCTION SHAFT
The shaft will reach a depth of 1,594m and fitted initially with a Blair multi-rope (BMR) winder with two 39-tonne capacity skips with rope guides and be capable of hoisting 6.7 Mtpa. To increase prodution capacity, a second winder and two additional skips will installed once production ramps up to 6.7 Mtpa, giving a total hoisting capacity of 13.4 Mtpa. The shaft will have skip loading facilities at the 1,520m level and skip unloading facilities at the 360m level, where polyhalite will be transferred to the mineral transport system's tunnel conveyor.
SERVICE SHAFT
This will also be fully lined and have a 6.75m internal diameter, reaching a slightly shallower depth in comparison to the production shaft of 1,565m. It will be fitted with a 20 tonne cage for transporting equipment and personnel to and from the mine level (depth of 1,520m) and the MTS level (depth of 360m). An alternative personnel conveyance suitable for 16 persons will also be fitted.
MTS SHAFT
In addition to the two deep shafts, a third shaft for a tunnel boring machine (TBM) will be sunk to the 360m level to build the Mineral Transport System (MTS) tunnel. Once the shaft is complete, the TBM will be lowered down in sections and rebuilt underground, before being driven north to meet the other TBM travelling south from Lockwood Beck.
To learn more about how the mine will be constructed, click here.