STRABAG awarded first tunnelling contract
29/03/2018
Sirius Minerals has entered into a design and build contract with STRABAG AG, a subsidiary of STRABAG SE ("STRABAG"), for the construction of the first drive of the mineral transport system ("MTS") tunnel between Wilton and Lockwood Beck. The section to be built by STRABAG is part of a 37 km tunnel with a diameter of 4.7 m for a low environmental impact conveyor system to transport the mined polyhalite from Woodsmith Mine near Whitby to Wilton on Teesside for processing. Site mobilisation is to begin immediately.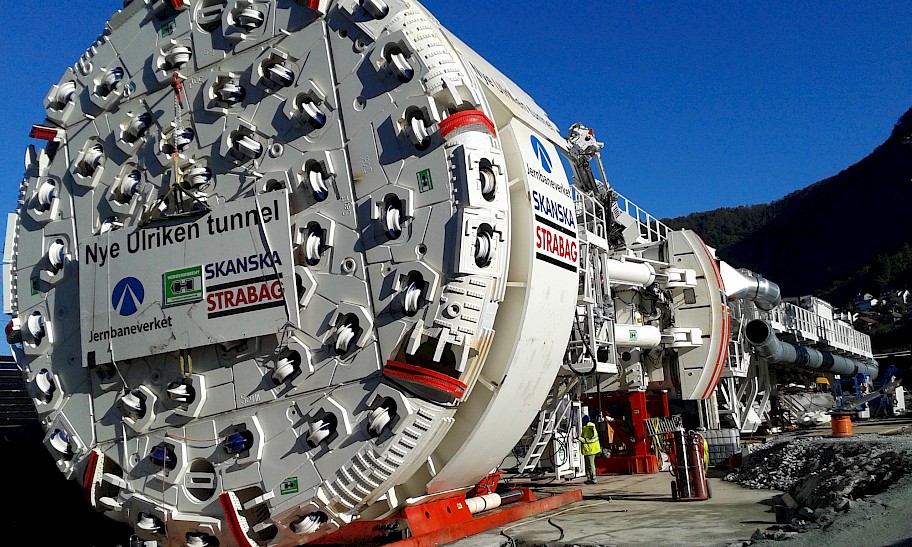 Above: A STRABAG Tunnel Boring Machine
The announcement came as the company announced its quarterly update, which stated that the project remains on track to deliver first polyhalite and commercial production on time and on budget.
Chris Fraser, Managing Director and CEO of Sirius, commented: "It is an exciting time for the Company as we continue to construct our game-changing Woodsmith Mine which represents the largest private sector investment in the North. The infrastructure we're building will allow us to create thousands of jobs, deliver economic benefits for the local and national economies for generations to come, whilst at the same time both delivering value for our shareholders and playing our part in improving fertilizer practices around the world.
"STRABAG brings with it world-leading tunnelling experience, a can-do attitude and another significant, well-aligned partner committed to the success of our project. We are now looking forward to adding progress on our mineral transport system to the impressive progress we have already made on early works and mine shafts."
STRABAG is one of the world's leading civil engineering and tunnelling contractors. The company is part of a consortium that last year was awarded two lots for the HS2 high-speed rail line, and also recently worked on the 57km Gotthard Base Tunnel (the longest railway tunnel in the world).
"We undertook a competitive tender process in respect of drive 1 of the Mineral Transport System, from Wilton to Lockwood Beck, to ensure that the best tunnelling option was developed," said Simon Carter, Chief Development Officer at Sirius Minerals. "STRABAG provided a compelling offer in terms of price, schedule, safety management and risk allocation."
Sirius continues to work closely with a number of parties in relation to the second and third drives of the MTS (Lockwood Beck towards Woodsmith and Woodsmith towards Lockwood Beck respectively) with a view to having these scopes of work awarded in conjunction with the completion of the stage 2 financing later this year. The Company is aiming to achieve first product from the mine by the end of 2021, ramping up to an initial production capacity of 10 million tonnes per annum (Mtpa) by 2024.
Notes to editors
About STRABAG SE
STRABAG SE is a publicly listed European-based technology group for construction services and a leading international transportation infrastructure, building construction and civil engineering contractor.
STRABAG SE is a global leader in tunnelling technologies and a specialist in providing technically optimized end-to-end tunnelling solutions worldwide. Their extensive experience and track record on some of the world's largest and most technically challenging projects includes the excavation of tunnels and caverns, TBM operations of all kinds including soft ground and hard rock, and long, deep tunnels.
STRABAG have worked on numerous recent high-profile tunnelling projects including:
The 57km Gotthard Base Tunnel (the longest Railway Tunnel in the world),
The Alto Maipo, Hydro Power Project, Chile – almost 50km of tunnel excavations, of which 22km driven by TBMs and;
The Koralmtunnel, a 32.9km tunnel as part of the 130km high speed rail link between Graz and Klagenfurt in Southern Austria.
Further information can be found at https://tunnel.strabag.com/
About the Project
Sirius Minerals is focused on the development of its £3.2 billion North Yorkshire polyhalite project – a state-of-the-art new mine south of Whitby and tunnel containing a conveyor belt system to transport mined polyhalite to a materials handling facility and harbour facility at Teesside. The Project will create over 2,500 direct and indirect jobs. At full production, it has the potential to generate over £2 billion of exports for the country each year and generate hundreds of millions of pounds in tax payments.
About Sirius Minerals
Sirius Minerals Plc is the fertilizer development company focused on the development of its North Yorkshire polyhalite project. It believes the Project represents the world's largest high-grade known deposit of polyhalite, a multi-nutrient form of potash containing potassium, sulphur, magnesium and calcium. Sirius Minerals' shares are traded on the London Stock Exchange's Main Market. Its head office is in Scarborough, North Yorkshire.
Back to news archive