Sirius Minerals Foundation awards £300,000 to local community projects
20/12/2017
The Sirius Minerals Foundation has announced the successful applicants for its first grant giving programme, who will share approximately £300,000, nearly three times the scheme's original budget.
Seventy-five local charities, educational establishments and community groups from across Redcar, East Cleveland, and the Whitby and Scarborough areas, have each been awarded grants of between £500 and £5000.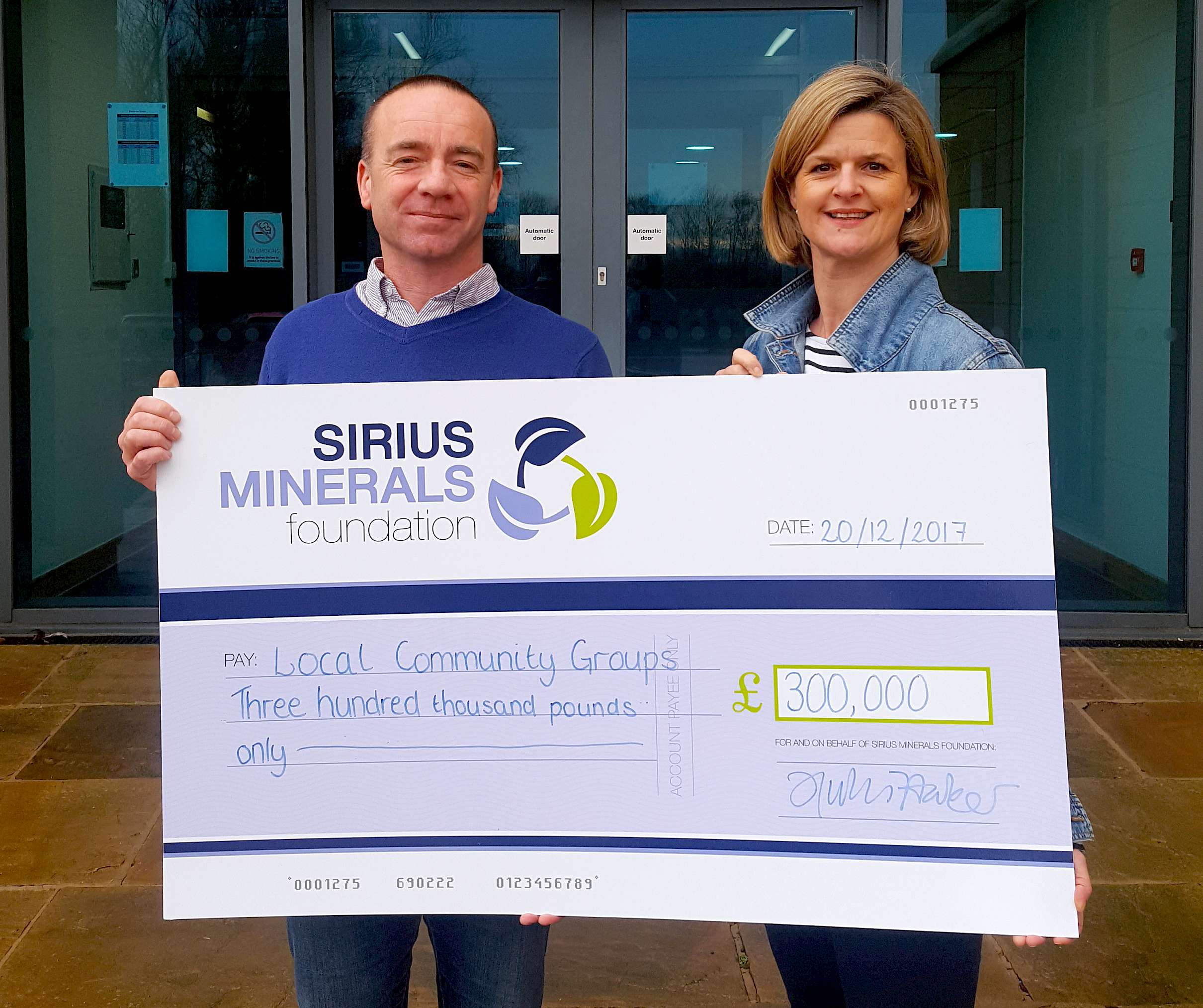 The Foundation is a community fund and independent charity and was set up to share revenue from Sirius Minerals' Woodsmith Mine. It chose to treble its original planned funding of £100,000, due to the sheer amount of applications received.
"The Foundation has been deliberately designed to put money back into the community and ensure that local people benefit directly from the success of the mine," said David Archer, chairman of the Foundation. "Given the interest, it seemed only right that we increase the budget to better meet people's needs. We've chosen a range of applicants to support, from community groups and sports clubs, to environmental projects and social schemes to try and help as broad a range of people as possible."
Chris Fraser, Sirius Minerals CEO, said: "Sirius intends to operate in the area for generations to come, and the Foundation is an important means to help us give back to local people and provide a lasting legacy for the community".
Among the successful applicants in the Whitby area was Whitby In Bloom, which was awarded £5,000 to landscape a community area. Tanya Brown said: "Thank you Sirius - with your help Whitby's Cliff Street Wonderland is no longer a dream and will make a huge difference to people's lives. Your support will enable Whitby In Bloom to improve safety in a forgotten area and create a fabulous themed view point across our fabulous Esk Valley".
The garden will also be used to provide employment related skills to people with disabilities.

Geology students at Scarborough Sixth Form College are also set to benefit from the Foundation grant. Marcus Towse, college Principal, said: "Support from the Sirius Foundation is great news for the Sixth Form College's Geology students. The petrological microscope will enable students to see into the structure of minerals and rocks, which really brings alive this part of the subject with great visual impact, and enhances understanding. There are so many applications of geological science, including the mining and oil industries, and we can also use this high-grade equipment to help engage younger students across the area, and give a boost to this important subject."
In the Redcar and Cleveland area, one successful project was Skinningrove Link Up, which will use the funds to improve its café facilities for Skinningrove residents and visitors. Alan Gardner from Link Up said: "This is wonderful news for our community at Christmas. The funding will enable Link Up to reinvigorate our cafe, allowing it to become more comfortable, self-sufficient, and attract more visitors to the area".
Further projects that have been awarded funding include Teesside Athletic Football Club, who intend to invest the money in their spectator facilities, perimeter fencing and a tuck shop, enabling profits to be put back into the club. Lockwood Primary School in Boosbeck will also receive funds to build an outside gym area for its students.
The full list of successful applicants is available on the Sirius Minerals Foundation website: www.siriusmineralsfoundation.co.uk.
Bids from those located in the immediate vicinity of the project sites (Woodsmith Mine, the mineral transport system access points, and the processing facility at Teesside) were prioritised in the initial round of funding. Future funding, made up of an annual royalty of 0.5% of sales from the mine, could be as much as £14 million, and will fund a range of community projects: from bursaries, scholarships or skills training for local people; to improving public spaces and facilities, health and wellbeing or environmental initiatives, and community building schemes.
Back to news archive