Sirius links up with parish council on wildflowers project
08/11/2017
Fylingdales Parish Council has received a £1000 donation from Sirius Minerals, after the company used seed from Fylingthorpe's wildflower meadow to plant up some of the newly landscaped areas at the Woodsmith Mine site.
Kingston Field, a natural meadow, contains a wide range of indigenous wildflowers - many of which are not found in other places. The council were keen to share some of the seed with the community to help local plant species thrive, and encourage indigenous wildlife. They were aware that Sirius was undertaking landscaping work around the mine site and approached the company with the offer of the seed to supplement re-planting activities.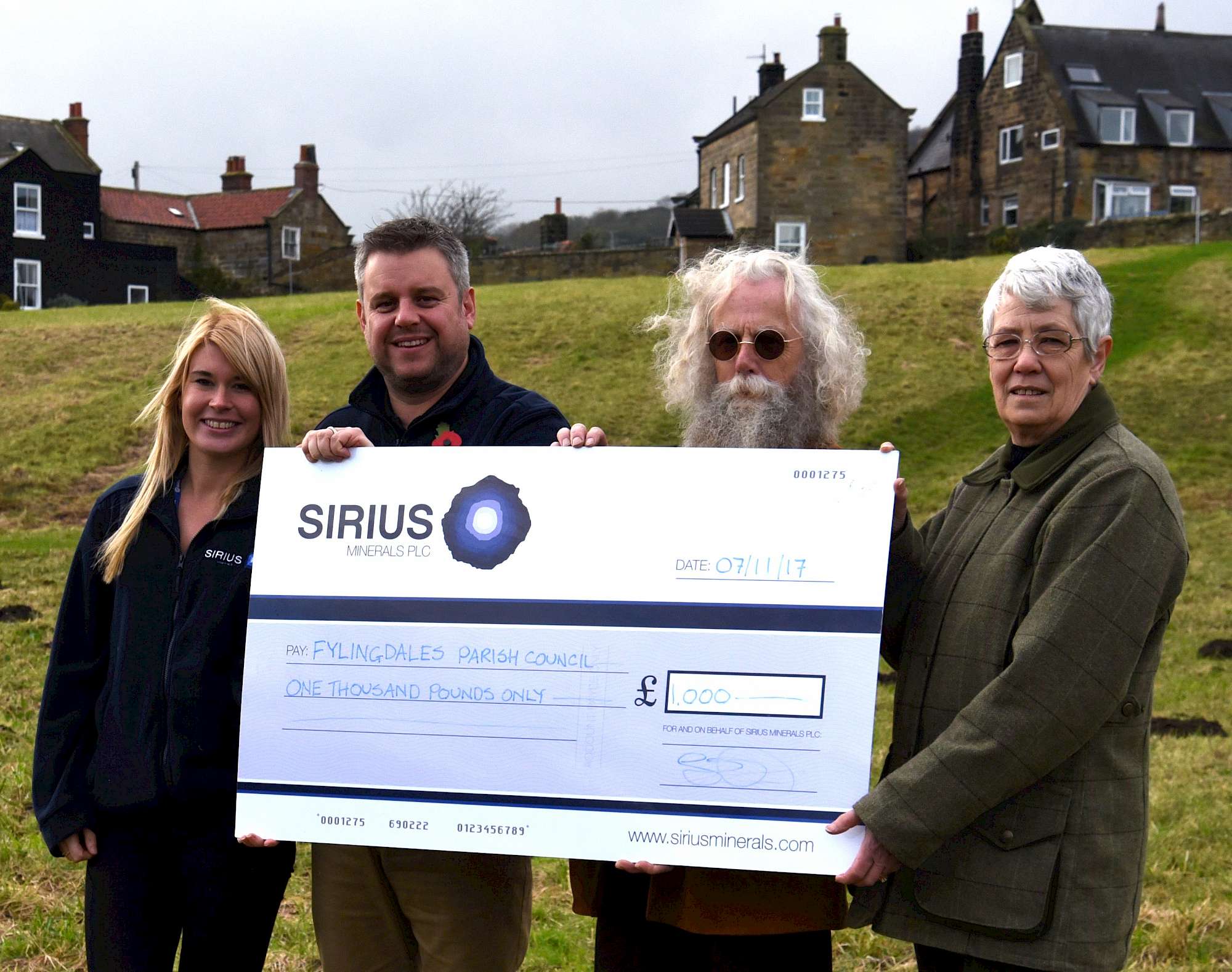 "Woodsmith Mine has been designed to blend into the surrounding area as much as possible, and we make an enormous effort to minimise our impact on the environment," said Rob Staniland, Environment Manager for Sirius Minerals. "This includes re-planting substantial areas of the site. If we can do this using local seed stock, the biodiversity of our site can be improved and rare plant species will have the ability to flourish".
Councillor Dick Hoyle, who suggested Sirius as a destination for the locally sourced seed, said "We are aware of the economic benefits that Sirius hopes to bring in terms of jobs and investment. Developing such a project in the national park brings special challenges and obligations, particularly when it comes to the environment. We have been impressed by the way in which Sirius has lived up to this challenge, and if we can play a part with this wildflower seed, then all the better."
Construction of Woodsmith Mine began earlier this year, and first production is due to be completed by 2021. Permanent head frames for the shafts will be sunk below ground level to reduce their visual impact, surface buildings will be kept to a minimum and screened by indigenous woodland, and the entire site will be landscaped to help it blend into its surroundings. Instead of being processed on site, the extracted polyhalite mineral will be hoisted to a depth of 360m, before being transferred onto a 37km long tunnel conveyor system to a handling facility in Teesside.
"It's great to have the opportunity to undertake environmental enhancement of this kind, particularly from local stock," said Rob Staniland. "We are working hard to ensure that we leave a lasting legacy with this project, and a positive environmental one, so we are keen to work closely with local councils, environment groups and farmers to do this. Our low impact mine design sets us apart from any other development in the world."
Fylingdales Parish Council intend to use the money donated to improve the area around the field and Parish, and hope to be able to supply Sirius with more seed mix in the future.
Back to news archive