Project exhibition opens at Whitby Museum
13/02/2018
The Sirius Minerals Project exhibition at Whitby Museum is officially open.
Entitled 'From Woodsmith to the World: The Story of Sirius Minerals' Polyhalite Project,' the exhibition takes visitors through the geological and mining history of the area, and describes how the mine will be built and function. It details the role that the Company's polyhalite fertilizer will play in helping farmers around the world increase crop yields to feed a growing global population. It also encorporates the community work that the Company is carrying out in the local area and their collaboration on environmental projects with the North York Moors National Park Authority.
"The mine has generated a lot of local interest in the area, due to the jobs and investment the project will provide," said Matt Parsons, External Affairs Manager for Sirius Minerals. "The exhibition is an opportunity for people to find out about how the unique polyhalite deposit we've found here in North Yorkshire can have a significant impact on global food production."
"There is a long history of mining in Yorkshire and the North East, and lots of curiosity, knowledge and expertise amongst local people on the topic," said the Whitby Literary and Philosophical Society. "So we were delighted when Sirius proposed the idea of holding an exhibition in the museum. There is also an interesting story to tell about their exploration of the geology of the area, which ties in well with many of the permanent exhibits in the museum."
"It's a real privilege to work on such an exciting and ambitious project that will help promote the region across the world," says Matt Parsons. "We want to have a project that everybody can be proud of, and we hope that the exhibition conveys the importance of the project for the area and the passion behind it."
The exhibition 'From Woodsmith to the World: The Story of Sirius Minerals' Polyhalite Project,' is open from Tuesday 13th February at Whitby Museum, Pannett Park, Whitby YO21 1RE. The museum is open from 9:30 am to 4:30 pm every day except Mondays.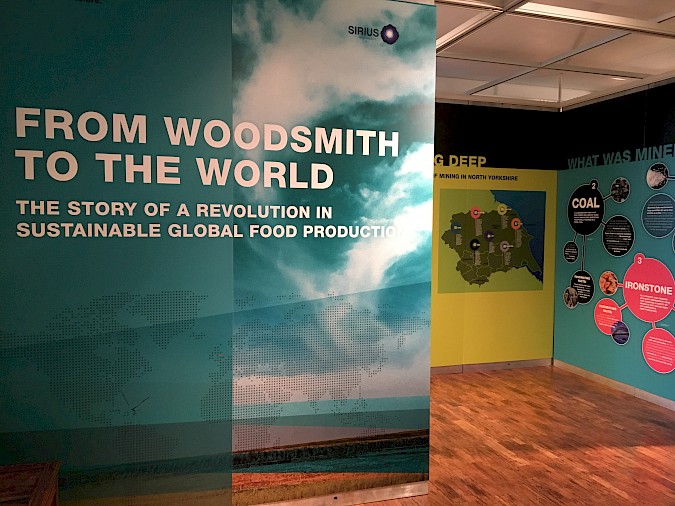 Back to news archive