Our Business
From Woodsmith to the world
Situated between the River Tees and Scarborough in North Yorkshire, UK, Sirius' project covers an area of 750km2 onshore and offshore.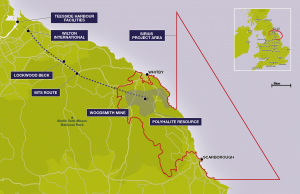 Sirius has secured all the required planning permissions and approvals along with the necessary mineral rights to develop its flagship North Yorkshire polyhalite project which, when constructed, will have the capacity to deliver up to 20 million tonnes per annum (Mtpa) of its multi-nutrient, low chloride fertilizer product POLY4.
POLY4 is derived from the naturally occurring mineral, polyhalite (K2SO4MgSO42CaSO42H2O), which is a relatively common mineral that occurs in marine evaporite systems, usually in accumulations several centimetres thick. In Yorkshire, Sirius has intersected high-grade seams of polyhalite up to 50 metres thick. Sirius has defined a JORC compliant reserve of 290 million tonnes of polyhalite with a mean grade of 88.8%, from a JORC compliant inferred and indicated resource of 2.69 billion tonnes of 85.4% polyhalite.
The polyhalite form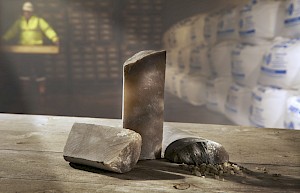 ed when an ancient sea, the Zechstein Sea, evaporated some 260 million years ago. The polyhalite seams that are the focus of the Company are located approximately 1,550 metres below surface level and have a mean reserve thickness of 25 metres. The current extent of the mineral resource, which has exploration potential in all directions, is defined from an area of only 7% of the Company's total mineral rights holdings.
To access its world-class mineral resource, Sirius has designed its mine infrastructure to not only be sympathetic to the sensitive location of its Woodsmith Mine within the North York Moors National Park but to also allow the Company to efficiently mine and transport up to 20 Mtpa of polyhalite from the Woodsmith Mine site to the Materials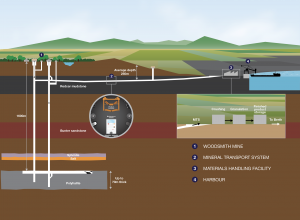 Handling Facility (MHF) on Teesside, causing minimal surface impact. The low impact infrastructure ensures no mineral will come to surface until after it leaves the National Park and arrives at the MHF.
The scale and quality of the mineral resource combined with the relative proximity to a deep-water port present significant economic and operational advantages and give the Project all the hallmarks of a world-class resource asset.