Mining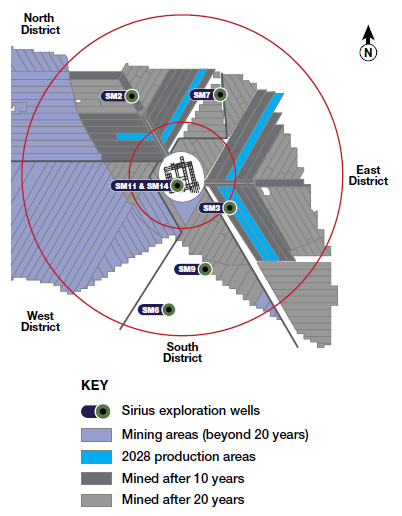 Once the mineshafts reach the polyhalite seam at 1520m below ground, pit bottom development and production mining will commence.
A protection pillar within the polyhalite ore body will be retained around the shafts to house shaft bottom infrastructure. Roads within the pillar will connect with the two main ore-body developments, nominally heading north and east.
Mining designs have targeted the polyhalite shelf seam that occurs near the top of the Fordon evaporite and is accessed by the shafts. The average thickness of the seam is 25m but, in places, we will take a mining cut of up to 40m. All production mining, including most of the pit bottom development, will take place within the polyhalite seam. The mine design is bounded by the Donovan Fault to the north and the Whitby Fault to the north-east of the mining area.
---
MINING METHODS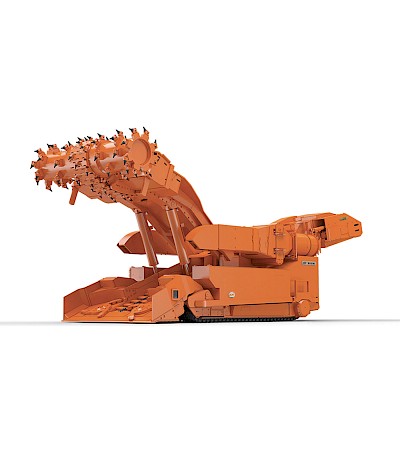 The Project will adopt simple conventional bulk mining methods to enable maximum extraction and low-cost operations, which is further supported by the nature of the polyhalite deposit which means almost every tonne of ore that is mined is a tonne of saleable material.
Continuous mining machines will excavate the ore by cutting a 12m wide, 5.5m high road, passing the mineral to a shuttle car, battery hauler or continuous haulage system to a feeder breaker which will size the material to a nominal size of 150mm and transport the mineral to the shaft bottom area, where it will be transferred into underground storage bunkers prior to skip loading at the shaft.
Pillars of polyhalite are left in-situ to ensure stable excavations, supplemented by roof supports to provide localised stability and protection for miners.
---
MINING SCHEDULE
Extraction of polyhalite will commence as soon as the shaft intersects the seam at 1,510m below ground level, as the roads and bit bottom are constructed within the polyhalite seam.
Initially, the extraction rate will be constrained by the capacity of the construction contractor's temporary hoisting equipment. On completion of the production shaft fit out, the hoisting constraint will be removed and the mine will commence ramping up by adding more continuous miners (CMs), as shown below. First production would be in 2021, ramping up to 10 Mtpa in 2024. The Company expects to reach 13 Mtpa production capacity in 2026 and 20 Mtpa in 2029.